Employee Spotlight: Shana Viveiros
Shana Viveiros is an onboarding and support specialist for Stonewall's Workforce Management System. She works closely with clients who utilize the system as a tool to help navigate what it looks like to go back to the office. As more companies adopt a hybrid workplace model, Shana is as much of an engineer as she is a "wedding planner" for your office space. She works with management to ensure that the right individuals are assigned to the right desks and areas to create a safe and collaborative work environment.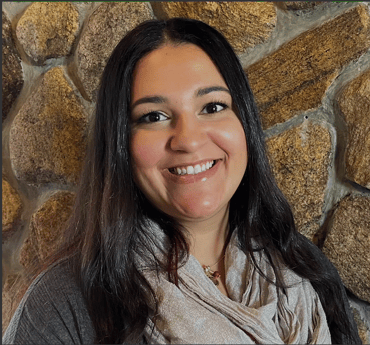 How long have you been with Stonewall?
"I've been with Stonewall since November 2020. I came from a medical background, my history involved building systems and then creating training guides to help educate others. There was no room for mistakes which has really shaped me into the detail oriented person that I am today.
Right now I work closely with the Workforce Management System- a hybrid workforce reservation system- and work with teams and agencies to get them onboarded."
What's it like onboarding agencies into the Workforce Management System?
"The onboarding process is very custom and personal, we work closely with organizations to plan out diagrams (a digital floor plan) that is then sectored out into 'neighborhoods' and then we can input onto our system to figure out what users can sit where, how they can make reservations, and how admins can manage floors for employees.
The system will prove itself to be helpful during and after the pandemic, businesses have already adopted the hybrid model and employers don't know where their employees are. This gives them a really good tracking system.
The system is really robust, we are very accommodating and it truly is a custom solution.
We work hard to accommodate whatever the clients current needs are. Right now one client is just using our system to coordinate bringing people back to the office at a safe capacity to get rid of items before a renovation."
What's your favorite part about working for Stonewall?
"My fellow employees are such a joy to work with, everyone is super friendly and welcoming. It's so different from what I used to do, I worked for big companies and you just don't know your CEO. Working with a small company, all the energy and work I put into my project is appreciated. Everyone is really great."
How has the hybrid model worked for you?
"I've never had the option to work from home before this, and I do live a bit far from the office. I have a one year old at home, and right now it is extremely accommodating because I can stay home and still work and don't have to worry about bringing my daughter to a daycare.
It's nice to be home, but it's nice to be social. I like being in the company of who I work with. It's nice to get back to collaborate with specific people and be together safely again. We use the Workplace Management System for our own office and I use it to see who is in the office so I can schedule time around the people I need."
---
Our team at Stonewall is here to provide organizations with the strategic software that makes going back to the office and doing your job easier. Our solutions are designed to adapt to fit your business needs. Want to learn more?