ReServe: Benefits of using a Reservation System in a Pandemic
During the unprecedented times seen over the past several months, our lives have relied increasingly upon online systems and innovative technology. Social distancing has brought on new challenges to every day life and government is one of the few sectors struggling to adapt. Federal, state, and local government have been faced with the struggle of offering the same public services while maintaining stringent occupancy capacities in line with COVID-19 regulations. These agencies have found the only way to successfully support and serve the public is to implement reservation management systems. A reservation management system provides agencies and organizations the ability to control the flow of individuals into public buildings. By doing so, these systems have allowed us to continue with somewhat normalcy across many aspects of life, from working from home to minimizing contact with essential and nonessential clients.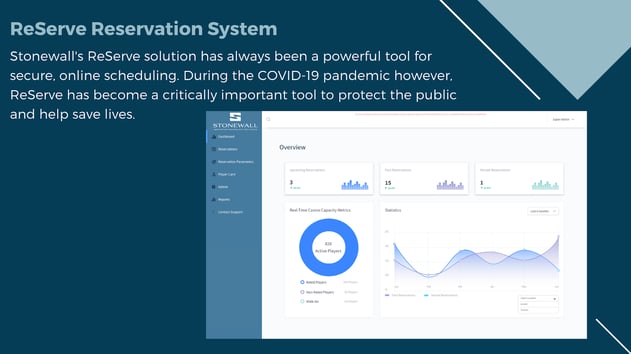 Stonewall Solutions offers secure online scheduling with the ReServe Reservation System. In order to protect the public and help save lives by managing the flow of people in both the private and public sectors, reopening must be strategic and planned with cautions taken each day. Online systems like ReServe have long been known for benefits including reduced waiting time, more flexibility and peace of mind, and better customer experience, as well as business-focused advantages like control over arrival flow and customer footfall, matching service requests to staff competency, improved operational and staff efficiency, and less pressure on staff. Key features of the ReServe Reservation System include public and administrator portal access, device independence, high security with industry leading validation features, intuitive user interface, and extensive analytics for flexible reporting. A recent study showed that around $62 billion is lost by businesses and organizations each year through poor customer service practices.
Users are able to create individual appointments based on schedule and transaction type preferences; there is also the ability to update or cancel appointments online. Conversely, administrators are able to manage their appointment and customer service processes from afar with minimal time required to manage a large number of customers. Additionally, leveraging a cloud solution like ReServe minimizes operating costs, limits train on technical resources, and allows for fast and efficient implementation. With customizable system features, it is possible for internal use to serve as a scheduling platform, or external use to serve as a customer reservation portal. ReServe is certified to meet NCIC/FBI security and operational standards.
As we reopen various businesses in the tumultuous times of COVID-19, safety remains the top priority for all service providers as restrictions continue to ease. As the imminent pressure of the virus lessens, the looming risk of COVID-19 among us is likely to remain for a long time. Investing your business in technology solutions like ReServe can maintain a high safety standard and allow for the soundest procedures as we continue to reopen. The cost of implementation is minimal in comparison to the significant benefits that will come; it is available as a one-time license purchase via our annual fee, with pricing set to meet budget requirements of any public or private organization, small or large.
Stonewall Solutions provides strategic software, technology, and consulting solutions throughout the United States. With a keen focus on quality, our solutions are customized to each client, designed to adapt, and durable for years to the benefit of our clients. Stonewall's name is derived from our mission to create technology solutions that stand the test of time. Stonewall Solutions has succeeded in providing quality software solutions and technology services since our founding in 2004.